Spazio Jazz Spot an upscale restaurant on Ventura Boulevard in Los Angeles with live jazz seven nights a week. Every Tuesday night famed guitarist John Pisano hosts his legendary Guitar Night in this restaurant and this sure is the place to be, music loving cats and chicks. Just check out the lineup of monster players here below! Black and white photos copyright © Bob Barry 2002-2012. All rights reserved.
Color photos copyright © Matt Resnicoff 2002-2012. All rights reserved.

Jay's comments: This was on Phil deGruy's gig on John Pisano's guitar night at Spazio in Van Nuys. Phil is an incredible guitarist that plays in a chord melody style. His sense of humor is outstanding and it shows in his arrangements!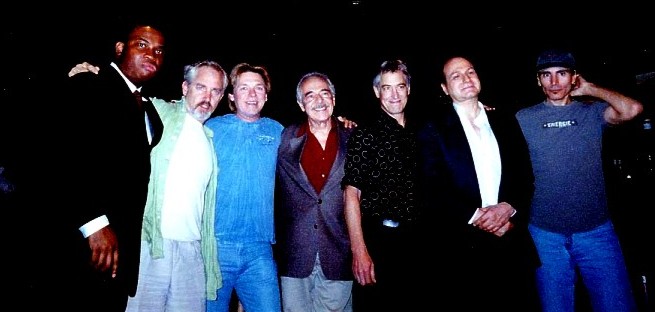 Photo by Matt Resnicoff.
From left to right, Russell Malone (Diana Krall and so much more) is truly an incredible jazz guitarist.
Sid Jacobs is another incredible jazz guitarist and has many books available at Sheet Music Plus.
I am next.
John Pisano is another incredible guitarist.
Phil deGruy must be heard to be believed!!! He has two albums available and the hunt to find is worth the effort!
Ted Greene is my idol! His chord melody playing is as good as it gets!!!!!!!!! His books, available at Sheet Music Plus, from more than 25 years ago are still extremely needed for any guitarist that wants to learn about chords. He recorded one album many years ago. It may be released soon if not already. (It is now released on CD and available at Amazon Ted Greene passed away in 2005. - Webmaster's remark)
Steve Vai needs no explanation as he is one of the best rock melodic guitarists ever!!!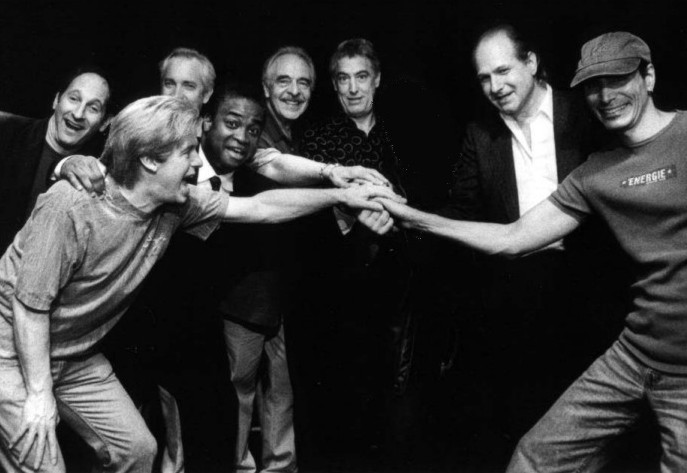 Photo by Bob Berry
Jay's comments: I am in front (obviously). Dan Sawyer is on the far left. Dan is another incredible guitarist. He is one of few musicians on the planet that can play many instruments very well!!! Sid Jacobs is next. Russell Malone ; John Pisano ; Phil deGruy ; Ted Greene ; and Steve Vai.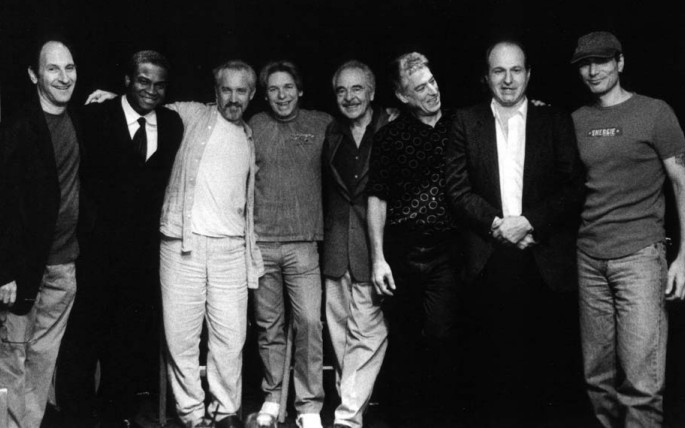 Photo by Bob Barry.
Dan Sawyer ; Russell Malone ; Sid Jacobs ; Jay Graydon ; John Pisano ; Phil deGruy ; Ted Greene and Steve Vai.
Jay's comments: John was the guitarplayer in the Tijuana Brass (Herb Alpert band). He wrote many of the hits. John was always a jazz guitar player and a few years ago, he started a Guitar Night. Every Tuesday night (Spazio for now) a different guitar player is featured. John typically plays with the other guitar player as well and there is typically a bass player and drummer. The gig is a hang out for great guitar players as noted by the pics. The night in which the pics were taken, Phil, John, and Sid were the guitar players and no other musicians. The music was outstanding!!!! I sat next to Ted in the audience and other than the great playing we were hearing, we both agreed that John's rhythm guitar sound was totally happening! He was playing a Guild Artist Award and we heard the acoustic bright sound of the guitar blended in with the mid range amp sound. Ear candy!!! Phil was playing a 17 string guitar. It is a 7 string guitar using a high "A" and the rest of the strings are like a harp that start with Ab. I forget the tuning past that point. Important to find his recordings as they are outstanding.


*****


OK Jay, I will let Phil himself take over the scene here and explain to us what kind of an instrument his GuitArp is... This guitar, even if it didn't make a sound, is a true work of art. With this ax, the question is clear and the answer is deep. The transition from 7 strings into the 10 "harp" strings is seamless. The fanned-fret life enables chords I couldn't play before, but more importantly, I can tune my high A string up to pitch without having ulcers. Basically, the harp strings are the black keys on a piano and the 7 strings are the white keys. Thank you Ralph Novak - you have lifted the ulcers. ------- Phil
So folks, not only is this a great sounding ax - it has also cut down Losec sales by half (approx.) lately. Quite amazing!
Jay's comments again: Sid was playing his ass off as well as he is surely a great jazz player!!!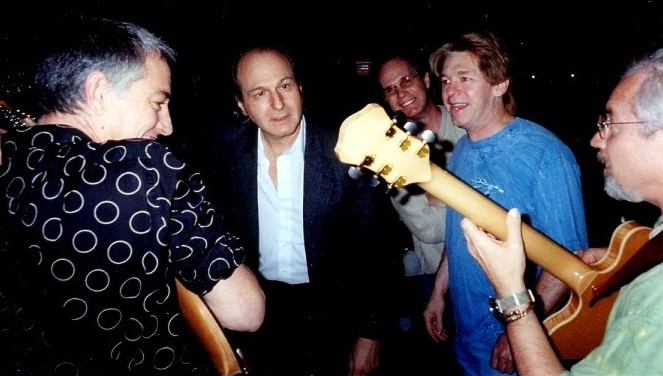 Photo by Matt Resnicoff.
"How the .... is he doing that?"

Jay's comments: You gotta love Ted checking out what Sid is playing!!! I am checking out what Phil is playing, and Todd is looking into the camera hoping he will get noticed. (g) The cats are Phil, Ted, Todd Homme (a very good friend of mine and another good guitar player. He is also head of film music at Dream Works), me and Sid.

Simply a great night digging great guitar players!!!!!!!

Another Spazio Guitar Night in LA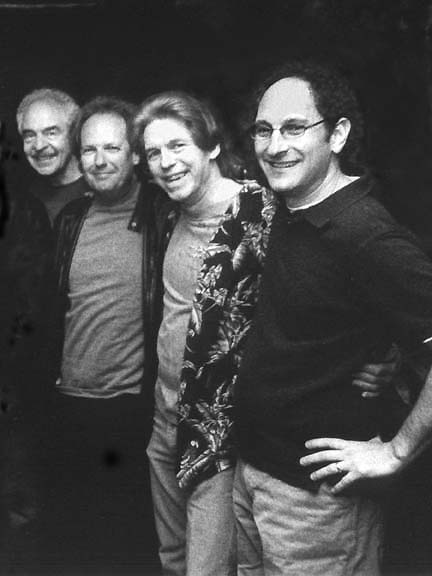 Photo by Bob Berry
Here is another lineup of amazing guitar magicians. This was on Dan Sawyer's guitar night a couple of weeks earlier and the players are from left to right... John Pisano ; Lee Ritenour ; Jay Graydon ; Dan Sawyer


After checking out the pics above I am sure you will also want to read more about these guitar players and a good place for that is at WHAT'S HOT WITH JAZZ GUITAR by Doc Dosco.
Doc's column is from Guitar News Weekly and will feature a new hot guitarist each week. On Doc's web site you will find a list of reviewed great guitarists. The links go to brief write-ups on each player and then go on to the featured guitarist's web sites with their discographies and sometimes audio clips.